Printer Test Images
Printer Test Images
Colour and black and white images to test printers and monitors
We've got several free printer test images for download here on this site.
There are however plenty more available on the web – this article was last updated in April 2021 with the image used for testing greeting card stock.
This page has links to many of the pages where you can download printer and digital photography test images.
We have 1200+ articles/reviews and now Videos related to photography, printing and colour management on the site – please do explore, and if you've any questions, just ask Keith.
Could you help?
If you've found this resource helpful, please would you consider contributing to the upkeep of our site? Buying something through one of our partners such as B&H will earn a small commission for us.
Thanks – Keith & Karen
We also have affiliate links for:
Photo stuff at Amazon.com and Adorama
Do you print your photos? I've written up my top 10 reasons prints look wrong.
Based on my 30+ printer reviews and many email discussions…
Never miss new reviews/articles with our (ad-free) Newsletter and Keith's YouTube Channel
Keith's collection of Test Images
If you have a test image on your site that you'd like me to mention, please feel free to drop me an email.
When updating this page for the new site, I found quite a few broken links. Where possible I've included archive.org links instead, but some files may be difficult to track down. I may have copies, but since they are not my files, I'm loathe to put them here for download – give me a call… Some images may also have restrictions for commercial use.
I've also some images specially for media selection when creating printer profiles.
It really is important to test any new printer with -known- good test images.
By all means test with your own images too, but remember that if you are printing your own photo, then you are actually testing far more than just the printer.
Black and White
A4 monochrome test image for print evaluation (latest 2014 version) – Explanatory article
Other paper sizes available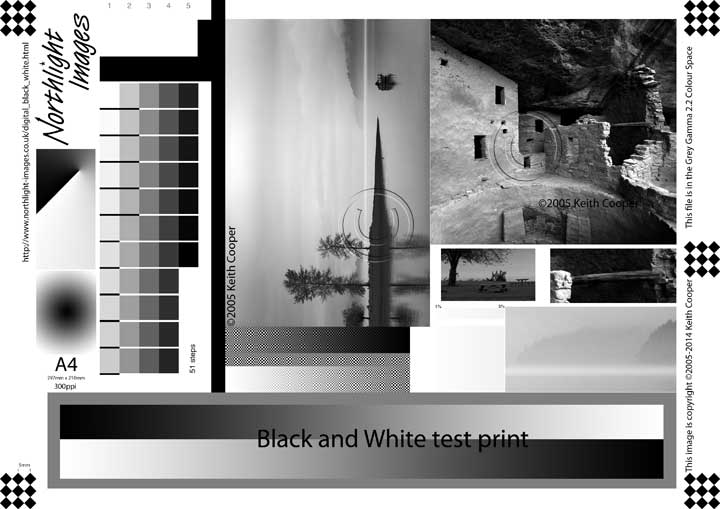 Original (2005) A4 Black and white printer test images (see article on their use – download page)
and strip version (11″x2.5″)

A quick guide to using the test image
Advanced linearisation image
Graham Preston has produced a test image aimed at showing up more details of non-linearity.
He has kindly allowed Northlight Images to host the file.
Graham's test image (300 dpi 13×19 cm) has circular gradients on it, both positive and negative.
Unlike the example in my own test image there are also stepped versions that allow you a more precise measurement of where the non linearity is in your prints.
As he says…
"And once I started to understand what my circular gradients were telling me, I came to realise that they're not very forgiving.
It's important to keep in mind that any test image is a tool and not a picture : the important thing is that we're happy with our output, not that we're producing a perfect linearization."
Download test image Image ©2006 Graham Preston.
It takes a good monitor and calibration tools to show some of the finer gradations.
A Simple greyscale test ramp
Greyscale printer test ramp (tiff – 300kB)
Note that this file is untagged RGB which means you need to be careful in opening and printing it.
It's from Keith's original 2003 article on better black and white printing.
The principles in that article still apply, and there is now an all new 2020 article which revisits using a scanner for B&W linearising.
This uses our normal B&W test image and is the recommended route to using a scanner to test print linearity.
Norman Koren's B&W test image
Norman Koren has a good B/W test image with info on evaluating print density and flare.
An 8×10, 400K sRGB JPEG.
Do take the time to read his detailed instructions and comments.
The page is an old but valuable resource in appreciating how to make use of all sorts of test images.
Monitor check
Desktop Images (6.5MB Zip)
From BasICColor – for testing the quality of your monitor setup
"The desktop background images are used to check and evaluate the monitor calibration.
The test elements are used for a visual check of highlight and shadow, the tonal response curve (gamma) and a neutral continuous gradient on the monitor.
Additional test images permit to control the uniformity of the monitor."
There are actually a whole collection of images for different monitors settings (Mac and Win PC).
Colour
When evaluating printer profiles it is important to use a known image, not just a photo you like the look of.
… all those things in the PDI test picture here are there for a reason!
The original larger (Adobe98) version comes from http://www.photodisc.com — we have a copy available for download)
Note, we also have some images specially for testing print driver media settings when creating printer profiles.
The information below is about the PDI test image and is quoted from the PrintFIX PRO on-line help.
See also the newer test image and explanation below from Datacolor
A Smooth even gray ramp on the right of the image, without visible colour casts or breaks in the gradient.
Good skin tone colour throughout the range of different skin types and their shadow areas, especially the difficult pink skin tones in the second face, and the areas where the skin transitions into the hair on the third face.
Dark areas in the hair of the first model that show detail without clogging.
Bright, saturated, colours without loss of detail in the robot, the beta fish, and the coloured beads.
Good deep tone detail in the purple sand in the fish bowl and the background of the tapestry.
Bright sunflower yellows in the sunflower, distinct from the lemon yellows of the lemon.
Good saturated blues in the vase and its stem.
No problem tones in the dark areas of the lemon, the peach, the orange, and the apple.
A rich range of greens in the cactus and the sunflower leaves.
Rich brown tones in the binocular case, transitioning well into the dark areas.
A good range of varying warm highlights in most areas.
The tint of each shadowbox section is effected subtly by the contents of each box.
Cool blue highlights on the optically brightened golf balls.
Good detail in the coloured areas on the elephant, without bleeding from the blacks.
Datacolor printer test Image
This image is from the SpyderPrint 3 package (see also Keith's Review of the Spyder3 Print SR)
We have a copy of this file available for download (2MB Zipped JPEG), courtesy of Datacolor, who have also allowed us to reproduce the information below about how best to use the image.
I use this image for a lot of quick testing, in particular after projector profiling, such as with the Spyder4 Elite
Do note that the full test image itself is in the Adobe98 colour space – the ones on this page are just for web display.
What are the parts of the image for?
Saturated Colors (top LH) Quadrant
This section is intended to show saturated colors, for use in checking how your display or printer deals with very intense colors, both synthetic and photographic.
Image One: Colors (q1i1).jpg.
This image includes synthetic step gradients of Magenta, Blue, Cyan, Red, Yellow, Green, and Black. The high saturation patches in many of these gradients will be outside the gamut of most monitors, as well as most printer/ink/paper combinations. They are useful to check your system against intentionally out of gamut colors.
The photographic section of the image includes highly saturated photographic colors. These are not as intense as synthetic colors, but can still be challenging to many devices. Typical desktop monitors will fail to reach many of the reds, oranges, yellows, and light greens in this image. Even AdobeRGB gamut monitors can't reach some of the most saturated yellows and light greens. Prints on glossy/luster media will reach all but the most saturated reds in this image, but matte/art papers will also be unable to accurately portray many of the dark green areas.
Image Two: Pottery (q1i2).jpg.
This image offers an excellent range of unusual saturated colors, lime greens, oranges, purples, golden yellows. Also excellent french grays, black rims, and specular highlights. On screen this demonstrates monitor high saturation channel blends. In print it tests high saturation ink blends with unusual colors. A few of the most saturated deep yellows are out of gamut even on an AdobeRGB monitor, with standard desktop LCDs a few of the most saturated orange tones will also be out of device gamut. In Print this image is entirely in gamut with many inkjet printers on glossy/luster papers, but has saturated dark tones that are out of the range of matte/art papers, resulting in somewhat less saturated dark areas in print than on screen.
Image Three: NightShot(q1i3).jpg.
This image exhibits the effects of colors too bright for the camera's dynamic range: many of the neon signs burn to white in the image, but their less intense reflections on the water show the true colors of the signs.
Use this image to check saturated colors against a dark background, and to view shadow noise or grain in the dark areas.
Image Four: Fabrics(q1i4).jpg.
Extremely saturated, glossy colors folded to exhibit ocular highlight band, and gradiate to shadows below.
Textile detail can be used to test for posterization and detail capabilities on screen and in print.
This image was shot in full sun at high altitude which further enhances color detail and saturation.
On screen this demonstrates monitor high saturation channels and blends. In print it tests high saturation inks and blends in many colors. This image emphasizes detail, not smoothness of gradients.
Skin Tones (top RH) Quadrant:
Image One: PortraitColor(q2i1).jpg.
This portrait shot offers a very yellow skin tone under very yellow lighting, so users can see what the yellow end of the skin tone range looks like on their device.
Fine detail in fly-away hairs against a dark colored background can be used to check for over-inking in prints, as dark mixed colors create the highest ink loading, and fine light elements against them show over-inking by bleeding and eliminating the narrow light areas. Fabric detail in the jacket can be used to check shadow detail capability on screen and in print. Out of focus flowers in the lower background can be used to check print gradation from colors to black, for breaks in gradient.

Image Two: GirlWithOrchids(q2i2)jpg.
Pure, pink skin tones with much cooler sky
lighting, to test the red end of the skin tone range. Denim blue running into deep shadow offers a challenge for printer drivers in producing dark blues with texture detail.
The Orchids display a wide range of near white tones, and can be used to check for highlight detail on screen and in print. Fabric detail in both the pink and blue fabrics will show ability of device to produce differing tones in these colors.
Image Three: Cuba(q2i3).jpg.
Another excellent check of highlight details in the musicians sidelit white shirt, showing cool window lighting, and warm reflected lighting.
Shadow detail and shadow saturation check in face and shadowed mural.
Deep skin tones into shadow test device's ability to display color tones evenly into darkness.
Image Four: Reflections (q2i4).jpg.
Tungsten highlights in hair burn to device (or paper) white, clearly showing ramp of warm yellow tones to device white, demonstrating the change that can occur when a color ramp ends in a mismatched white.
Mix of warm and cool highlights in mannequin and window reflections. Warm and cool highlights in mirrorballs.
Hot pink highlights in light gel. A challenging image to print on many papers due to mixed lighting and multilayered transparency.
Landscape and Gradients (bottom LH) Quadrant:
Image One: Stone Vase (q3i1).jpg.
Exceptional range of greens from a yellowish grass green to deep evergreen, with green shadow tones, and dark shadow detail, plus stone vase neutrals grading from near highlights to shadow tones, with fine detail throughout, to show posterization effects.
Garden bench in the deep shadows in the background provides exceptional shadow detail test. Difficult light purples in Hosta blossoms. On screen this demonstrates monitor green gamut and hue, plus green channel range to black. In print it tests Yellow/Cyan blended greens or ink carts greens depending on device.
Image Two: Adobe Church (q3i2)jpg.
Pure, saturated sky gradient.
Sunlit adobe surfaces with detail and graduation. Deep shadow detail in tower windows and on rear ell.
High contrast greenery in foreground.
Excellent sharp contrasts between sky and crosses, rail and adobe, adobe and sky etc.
Image Three: Sunrise (q3i3)jpg .
Unusually pure sky gradient from pink to purple and white in sky.
Subtle mountain blue gradient right to left.
Unusual shadow detail in ochre tones in foreground which are particularly challenging to print without losing saturation.
Image Four: Landscape (q3i4)jpg.
Excellent pastel colors in full pallette: reds, oranges, yellows, greens, blues, plus purple shadow details.
Tells a great deal about monitor white point and highlight tonality, shows light color blending in printer inks.
Black and White and Test Image (bottom RH) Quadrant:
Image One: B&Wportrait(q4i1).jpg.
Detailed grayscale skin and hair textures and gradients.
This image tests neutrality and detail, with a focus on the skin tone range.
Includes both sharply focussed, and out of focus elements, producing a range of detail textures.
Image Two: Infinity(q4i2).jpg.
This image focuses on the dark tones, and the edges between light elements and darker backgrounds, as well as wood grain detail and other darktone patterns.
This image is a good test for gamma (how light or dark the midtone on a device appear).
Image Three: ScooterB&W(q4i3).jpg.
Very smooth gradients in a wide range of tones. Highlight detail in white paint and upholstery, deep shadows in handgrip texture.
Selective focus produces smooth gradients in edge areas.
The well distributed range of grays, detail in all zones, and gradients combine to produce an image that allows for easy visual determination of neutrality.
Image Four: B&WTestImage(q4i4).jpg.
Datacolor's standard B&W Test Image includes a wide array of pictorial and graphic elements.
Use the long gray ramp at the top and short radial grayscale at the bottom to judge smoothness and continuity. Use the stepped gray ramp for checking distinct values.
Review the enlarged details above each image for highlights and shadows:
The Trees in Fog detail checks fine distinction in neutrals, while the Boat Planks Reflection checks the ability to distinguish deep shadow details.
High Res version in sRGB and Adobe 98
Zipped file – both versions (25MB)
There are short videos using this image on the Epson XP-15000 and Canon PRO-200
The downloadable card templates mentioned in the video are to be found in the look at card printing:
Media test image
For checking media types – as discussed in our media settings article
Large TIFF file available for download at our Download page
Fuji Test Image – a warning
The whole idea of a test image is that you can trust it is correct…
This is an image originally produced to help calibrate Fuji Frontier printers.
It's found all over the place in various sizes and colour settings. Any original is probably long lost.
It has distinct problems in that some of the colours are quite obviously wrong. That blue sky has moved to the purple – a common effect of a profile mismatch.
Assigning the ProPhoto colour space brings the sky back to normal looking, and a reduction in saturation brings the image into the Adobe 98 colour gamut, but then the colorchecker card colours look wrong. Looking at the elements incorporated into a test image further down this page suggests that the original was CMYK.
Your inkjet printers may use CMYK inks, but they are RGB devices. Unless you know what you are doing, be very careful in processing CMYK images – we never supply images to clients in CMYK without written specifications and then we charge extra for it.
If you'd still like to experiment, a 7″x5″ at 300 ppi version is available on our Download page
On-Sight test images – colour/B&W
An old but useful image.
"This color PSD file can be viewed or printed to evaluate how well or poorly a device is calibrated and/or profiled. It contains linear gray scales, additive and subtractive color scales, a grainger rainbow, skin tones, high key and low key images for evaluating highlight and shadow detail. It contains a text layer so that the printer, paper and intent can labeled with each print. Choose "update" if necessary when opening this file. Photo credits Aperion, Fuji and Scott Martin. Circa 2005."
Colour and black and white test images from On-Sight http://www.on-sight.com/downloads/
There is a useful media settings selection image as well as much useful reference info on the site
A newer image from the same link as above concentrates on deep and hard to reproduce colours.
All photos © Scott Martin
Colormanagement.org test images
BasICColor have a range of downloadable images at http://www.colormanagement.org/en/testimages.html
Many are aimed at press use, but these are of more general usefulness
Radial Smoothness check from BasICColor
Much like the Bulls Eye target on our B/W print this image shows up non linearity very well.
"This file shows a synthetic gradient with colors that can be found in 'still' images (e.g. fruit). The tertiary colors can also be found in the shadow area of skin tones."
"The test image is a simple JPG file with out-of-gamut colors in a standardised offset print.
This image already shows the typical JPG or rather 8-bit quantisation effect.
Especially difficult to reproduce in CMYK are the areas in the cap and the unsharp logo on the right side in the background.
If the output profile doesn't have a homogeneous gamut mapping tone value bandings will appear after the transformation"
Vanishing images
A lot of popular images have just vanished over time. I have copies of many of them, but since I've no idea who's original images they are, I can't offer direct links. If there's something you need may be able to supply a copy – for non commercial educational use.
Bill Atkinson's test images
This collection (and others) was originally available from Bill Atkinson's Mac.com page as a compressed 50MB download. Update 2015: The link to these files has broken.
There are also some of his profiles and profiling test targets
Outback print image
This version, and a guide to using it could be found at Outback Print but (2016) the site has vanished.
There is a copy of the notes about how to use this image at archive.org
The image itself was able to be downloaded at:
http://www.jirvana.com/printer_tests/PrinterEvaluationImage_V002.zip
However [2020] it's gone – once again I have a copy, but see the collection linked further down the page.
Other assorted images
This one was available in several colour spaces and looks to include corrected parts of the Fuji test image mentioned earlier.
The original link has expired, but the page and files are available via archive.org
http://www.andrewdarlow.com/calib.html
https://web.archive.org/web/20160320003610/http://www.andrewdarlow.com/calib.html
Colour Science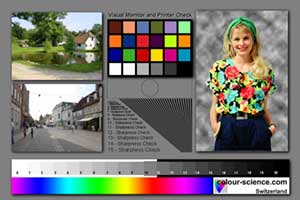 Test Image was from from http://www.colour-science.com
However the site is [2020] defunct but the image can still be found via archive.org
https://web.archive.org/web/20160412132148/http://www.colour-science.com/quality%20test%20tools/test%20files/test%20files%20overview.htm
Available 900×600 pixels and 2362×3543 pixels
A Getty test image
Getty Test Image – Prints A3 size at 300dpi
Unfortunately it obviously didn't make Getty enough money, so they no longer offer the file for download :-(
http://legacycreative.gettyimages.com/en-us/marketing/services/Getty_Images_Test_Image.jpg
I found this out when updating this page – info and links to other images at: http://www.colorwiki.com/wiki/Test_Images
The Getty image and many others (see below) are still available at http://www.inkjetcarts.us/support/article/color-test-images-for-known-color-comparison-47.html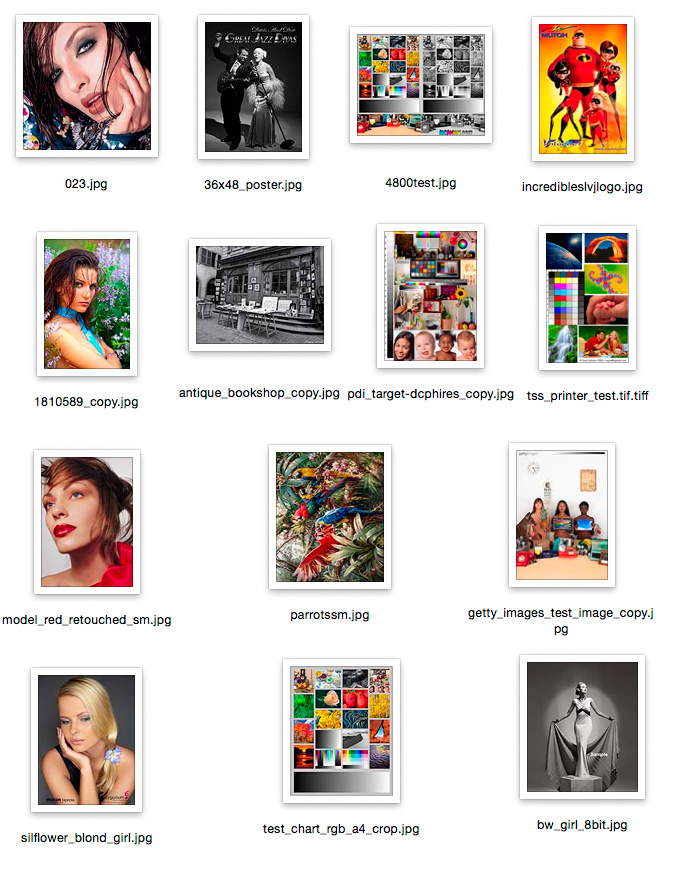 Riwodot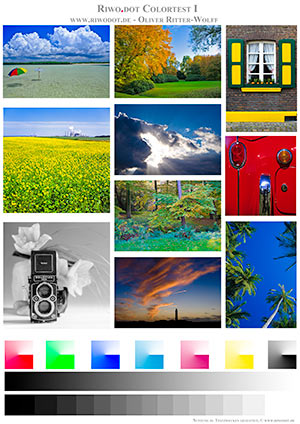 Test Images from Oliver Ritter-Wolff at 'Riwodot' [German site]
There are a number of test images that can be downloaded from the site.
See http://www.riwodot.de/wc/pages/colormanagement.php
The tonality on this B&W is very good.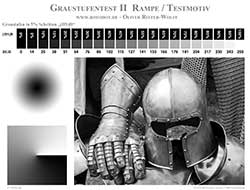 HutchColor targets
Images and targets from the useful HutchColor site
http://www.hutchcolor.com/Images_and_targets.html
Many more, and all kinds of other colour related stuff on the site…
---
The Granger Rainbow
These targets can be used to determine how your image processing/editing/printing workflow (from editing to output) reproduces various ICC colour spaces.
RGB and CMYK versions – zipped file
There are RGB and CMYK versions. For most people, only the RGB targets will be useful. The CMYK versions are mainly used for CMYK environments (printing presses, true CMYK printers, or RIPs), that give you access to the individual CMYK controls.
RGB usage is pretty simple:
1) Use your image editor to ASSIGN the ICC profile you want to test(i.e. ProPhoto, AdobeRGB, sRGB, one you've created, or obtained from somewhere else, etc.) to the appropriate RGB target.
2) Send the file through your normal workflow to the output device (monitor, printer, projector, etc.) and examine the image.
3) Look for any discontinuities (color shifts, non-smooth areas or anything else that looks wrong). If everything looks okay, it means that your output device can reproduce that color space. Otherwise, you'll need to try a different ICC profile (usually a smaller one or one generated specifically for that output device).
Note: thanks to SteveJ, who created the files, wrote the notes above and kindly let me host the files here.
Keith's quick look at the rainbows…
It's important to remember that these are mathematically generated files, so to see the files as images, they need to go through a process where an ICC profile is assigned to map the numbers into 'colours'. This is so, whether you look at them on a screen or print. This happens (behind the scenes) even if you just double click the file to open in the default viewer for your computer. I've got Photoshop set to warn me when opening files with no embedded profile and offer me options to assign one.
After assigning a profile (imagine an egg as the shape), the data in the target defines the extremes (imagine just the shell of an egg) of that colour space (profile) and provides a way of evaluating how faithfully your output device handles those colours. The theory being that if it reproduces the extremes well, any colours within that space should also reproduce well.
For a simple example with your monitor, try opening 3 copies of the RGB file, assigning sRGB, Adobe98 and ProPhoto to the images. Now look at the images on your monitor at the same time. The sRGB version has a full range of colours in the sRGB colour space – hopefully this should look smooth without hard transitions.
On my BenQ SW320 monitor, which is a near-A98 wide gamut monitor, the Adobe98 version is also smooth, and the colours are noticeably more intense.
The ProPhoto version is quite different and shows distinct bumps – my monitor can't accurately display ProPhoto. This should come as no surprise since there isn't a monitor built that could do so….
Does this mean that I shouldn't work with images in the ProPhoto colour space? – not for this reason.
As long as I realise that there are colours that can be in the image that can't be accurately displayed (when editing for example) I'm not worried. Indeed, there are colours that a modern multi-ink printer can reproduce that are outside of the gamut of Adobe98 and my monitor. Just be careful though that you don't spend ages editing parts of an image in colours that your printer/paper choice simply hasn't a hope of reproducing [See my Printing bright colours article about when I wanted to print some bright red flowers]
I'd also note that ProPhoto is my colour space of choice when I know I'm converting a photo to black and white – I want as much of the original colour in the image as possible – I may not be able to see some of it on my monitor, but differences in those colours not visible on my monitor may show as detail when I convert to black and white.
Above all, use synthetic images such as the rainbow with care. I've seen perfectly good looking prints of 'real world' photographs from less than optimal profiles – use tools like this to help yourself understand where there might be issues, not where there absolutely will be.
Just one other personal observation before you get too worried about gamut limits and working spaces. The majority of our commercial photography imagery is still ultimately supplied to clients in sRGB. For colour prints I generally work in Adobe 98 and have found very few natural images where I've felt the need to go back to try with ProPhoto. Yes, there are images which need processing in larger spaces, but you get a feel for when they do, and you also realise the potential problems if you pass them on to unprepared clients ;-)
Lens Resolution Test images
We have an article specifically devoted to testing Camera AF accuracy, and if your camera supports it, adjusting the AF settings (microadjustment)
---
ISO 12233 Lens Test Chart
http://www.graphics.cornell.edu/%7Ewestin/misc/res-chart.html
Print your own resolution test chart
---
-Serious- lens testing information from Norman Koren
Never miss a new article or review - Sign up for our Newsletter (2-4 a month max.)
More print related information
For information about other printers, paper reviews and profiling (colour management) see the Printing section of the main Articles and Reviews page, or use the search box at the top of any page. There are also specific index pages for any articles connected with the following topics:
More of Keith's articles/reviews (Google's picks to match this page)
---
We're an Amazon.com affiliate, so receive payment if you buy via Amazon US